ITALY - May 1st, 2021 - Holy David announced that he will use his personal online viewing room to show his artworks to collectors, curators and gallerists. The room has been developed with the most recent web technologies and tailored on the need of Holy David himself and of his clients in order to guarantee the highest levels of privacy for their personal data.
The best web technologies
The online viewing room is called Simulacrum and it's a web app that uses the next generation web development frameworks that make it reach peak perfomances on every device, from laptops to smartphones. Simulacrum is quick and highly performing, allowing guests to scroll through paintings, read details about one and log in to the session in a matter of milliseconds.
Simulacrum guarantees the highest security for each and every session that's on. HTPPS protocols and web certificates make sure that the data exchange between the guest's device and the servers where the web app is hosted is always safe and protected, away from unwanted eyes.Simulacrum itself, by Holy David's desire, has been designed not to have any sort of behavioural tracking technology on the user.
«The experience of watching one of my artworks is sacred. Be it the first time or the tenth time, I want collectors, art lovers, journalists, gallerists and guests to feel at home in an intimate space. Because privacy is as essential as art.»Not only Simulacrum doesn't include tracking technologies, but no personal data is required to access the individual session for watching the paintings.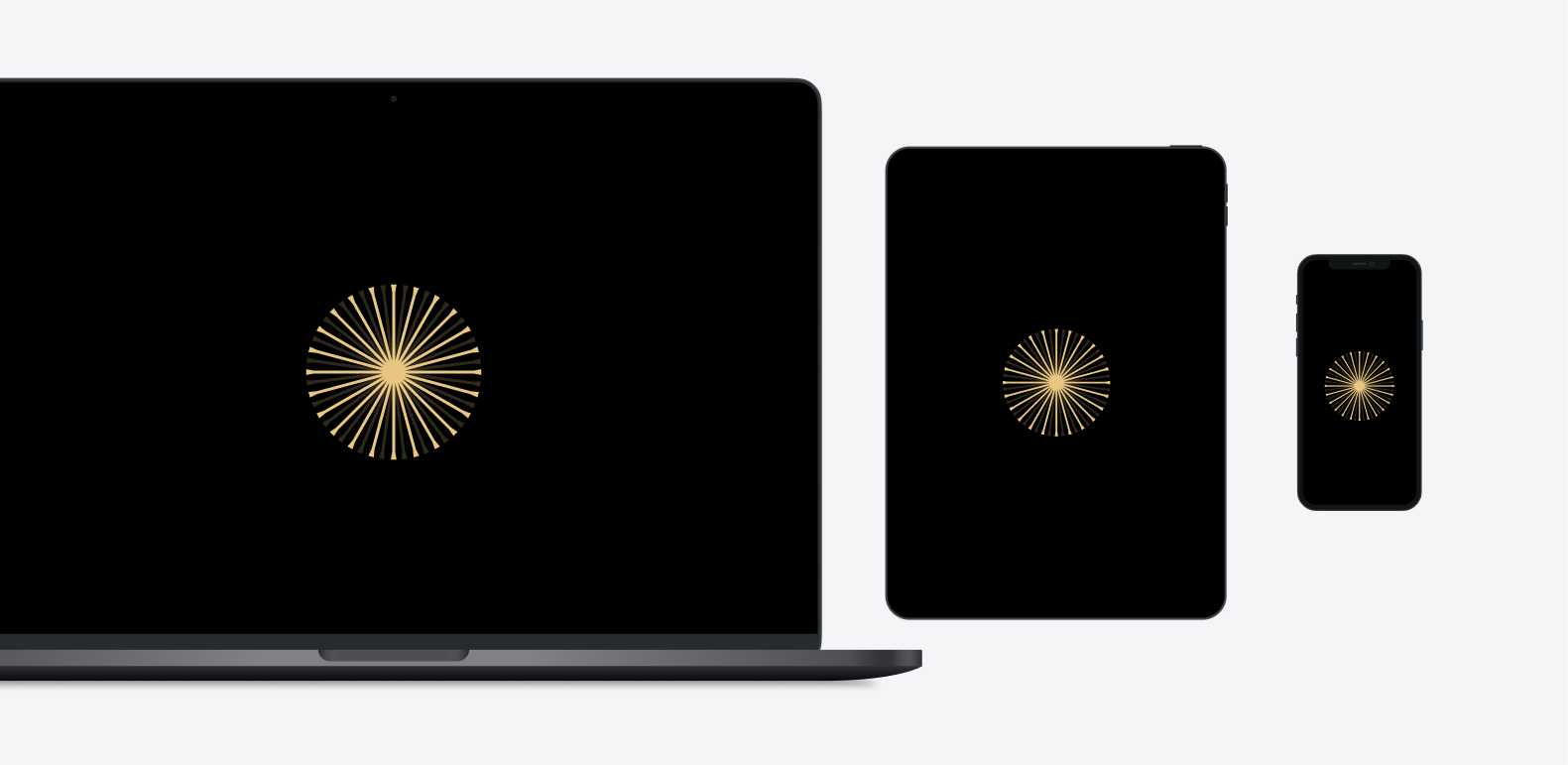 The invite-only system and Golden Ratios
And that's because Simulacrum is based on an invite-only system.
«I deeply care that whoever wants to look at my artworks has a highly curated experience from start to finish, as if they came to my studio in person. And since to look at my paintings you do not need anything else more than the artwork and the observer, I don't care about collecting any other data. And I build a whole system around that.»
To access Simulacrum, each guest has to be personally invited by Holy David and receive a one of a kind code that's called Golden Ratio. The code lasts for one month and after that it is no more usable.
Each code is linked to one and only one session to which guests can access whenever they want.This way, inside the code there's no reference to any personal data and there's absolutely no need to create and save data or accounts on Holy David's Simulacrum server. Privacy is highly respected, along with security.
The new frontier for art online viewing rooms
Thanks to web technologies, HTTPS certificates and Golden Ratios, Simulacrum is by its own right the new frontier for art online viewing rooms, not only technologically speaking but also for their approach to privacy. Holy David, profound Computational Artist, believes that only when technology merges with art the Human Being and Art itself can reach new levels that have never been reached before.
There's still a lot we don't know about Simulacrum, since only invited guests can access. Holy David announced that before his worldwide reveal early 2022 will give access to an extremely curated group of collectors, gallerists, journalists and curators to show a preview of his artworks. Names are still unknown, though.
«I want to show how technology and its care, along with its fusion with art, can bring art to a whole new world. Not only by giving creativity new tools to use but becoming itself artist and creative force»
Only on the day of his worldwide reveal, Simulacrum will be revealed to a bigger public.Artworks will remain visible only to those who have been gifted with a Golden Ratio by Holy David itself.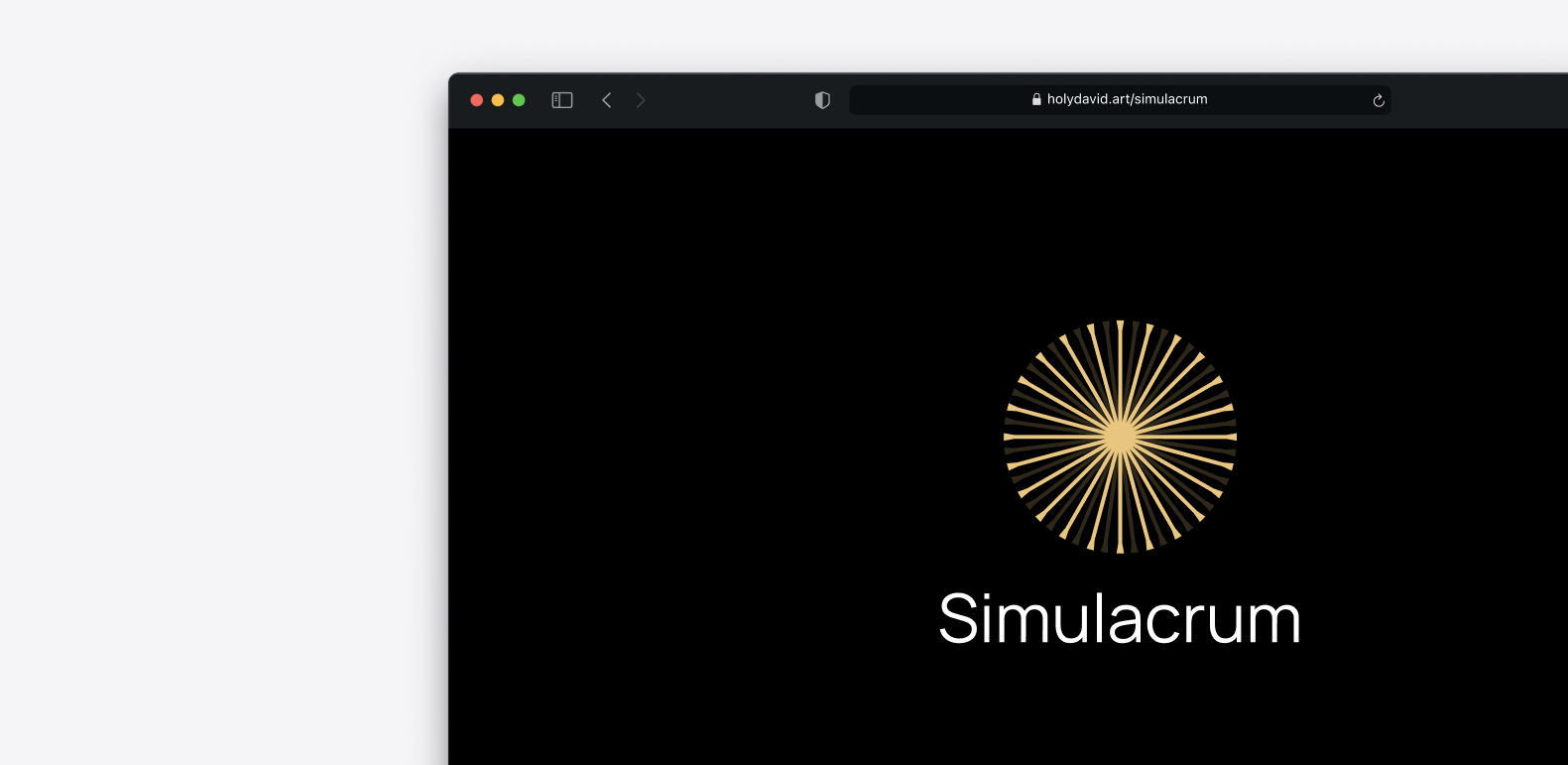 About Holy David
Holy David is the Italian contemporary artist that will introduce Computational Art to the world on 2022. He built Simulacrum, the new frontier for online viewing rooms, and he introduced a new way of living art where privacy and the environment are constantly respected and elevated.Holy David has never shown himself to the public and his identity is jealously kept hidden and never shared. Born on 1996, Holy David makes art since he was 15 and lives with technology since 18. When he turned 24 he had a revelation and understood that the art of the future is the kind of art where the human being and technology empower each others instead of competing with each others.